Duck Buffalo Wings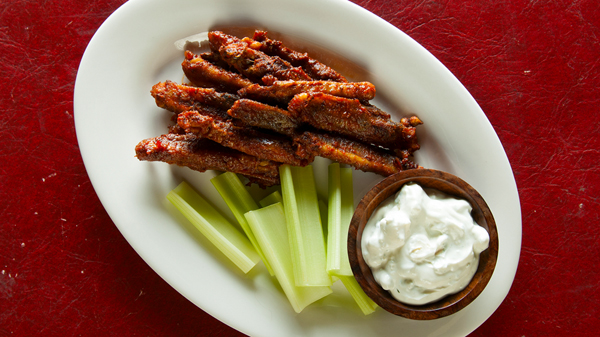 This is a recipe courtesy of food blogger and avid waterfowler Hank Shaw, host of Hunter Angler Gardener Cook.
24-48 duck wings, separated into sections
1 quart duck stock
2 bay leaves
1 small bottle Tabasco Sauce
2 tablespoons mild paprika
4 tablespoons olive oil
1 teaspoon salt
1 teaspoon chile paste (optional)
1. In a large Dutch oven or covered pot, submerge the duck wings in the stock; add water if needed to cover by about 1/2 inch. Toss in the bay leaves, cover and put in a 325-degree oven. Cook for at least an hour, maybe 2 — you want the wings to be nearing the "falling off the bone" point.
2. Remove and drain. Pour the Tabasco sauce, paprika, olive oil, salt and chile paste into a container large enough to hold all the wings. Stir well to combine and add the wings. Toss well to coat them all.
3. Let this marinate for at least an hour, and as long as overnight. The longer you marinate, the hotter the wings will be.
4. Preheat oven to 375 degrees.
5. Place the wings on a cookie sheet or two in a single layer and bake until they are crispy, between 30-45 minutes. Start watching them after 30 minutes to see that they get to the crispiness you want.
6. While the wings are cooking, pour the marinade into a small pot and bring to a boil. Keep warm, and when the wings are done, toss them with the warm sauce right before serving.
7. Serve with your favorite blue cheese sauce with some celery. Oh yeah, and a beer.
Reprinted with permission from: honest-food.net/wild-game/goose-recipes/legs-thighs-wings/duck-buffalo-wings/