Delta Waterfowl Magazine
Delta's outstanding membership magazine is published 5 times a year to celebrate the rich traditions of waterfowl hunting throughout the United States and Canada. In addition, the magazine keeps members and supporters informed about the important conservation work The Duck Hunters Organization is doing for ducks and duck hunters.
Winter Issue Celebrates Late-Season Hunting, Delta's Conservation Legacy
Icy weather has arrived, mallards have begun pouring into the mid- and southern United States, and the Winter Issue of Delta Waterfowl magazine has you covered with creative strategies for decoy-shy, late-season ducks.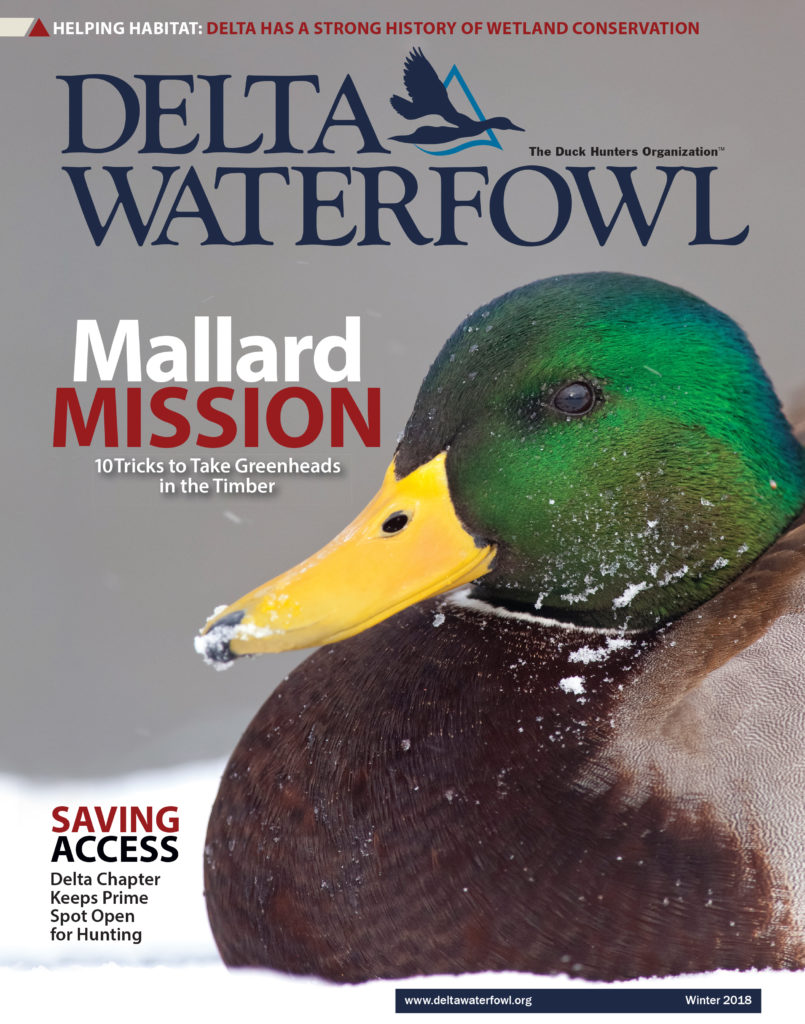 David Hart reveals unique tactics to fill your strap in flooded timber, while John N. Felsher provides a guide to hunting North America's numerous, public rivers. Should you take a late-season, wall-worthy drake this year, be sure to follow waterfowl taxidermist Tyler Coleman's tips to ensure it turns out beautifully. And if your hunting areas have gotten a little stale, check out Brian Lovett's advice on finding fresh honeyholes in today's competitive waterfowling world.
As you enjoy the November flights winging south, take a moment to celebrate the role you've played as a Delta Waterfowl member in ensuring healthy waterfowl populations. In the Winter Issue, you'll learn the story behind Delta's legacy of wetland research and conservation, from humble beginnings in the 1930s to today's innovative habitat solutions.
There's also plenty of waterfowling excitement packed into the Winter Issue. Ron Peach discovered that southern Florida's pleasant temperatures and bucket-list birds make it the ultimate winter getaway. You'll enjoy remarkable photos of the hardiest of North American waterfowl — the eiders — as captured by renowned photographer Gary Kramer. Then, it's time to head to Newfoundland, where Delta's Alex Heiser experienced a rich and unique waterfowling culture.
As always, the Winter Issue carries a full slate of informative and entertaining columns such as Voice of the Duck Hunter, Duck Dogs and Duckology to help you get the most from your waterfowl season.
The only way to receive Delta Waterfowl magazine is to join The Duck Hunters Organization. If you are a member, thank you for your support. The Winter Issue will arrive soon!
To join Delta Waterfowl, call (888) 987-3695 or visit www.deltawaterfowl.org/member.