On the Air: Track the Migration of Delta's Radio Ringnecks
Ring-necked Duck Project: Year 2 Movement Maps
April 8 to 15, 2019
The Midwest got hammered by another bomb cyclone — the new jargon for a brutal storm — but the ring-necked ducks seemed undaunted, even though most of the Midwestern birds got quite a bit of snow at their stopover sites.
Contrary to normal for April, the snow line (shown for April 14), which is outlined on the map as the white shaded areas, moved much farther south than it was last week. Ironically, the weather at the Delta Marsh, most of southern Manitoba and even NW Minnesota were just above the storm was much warmer, with highs nears 50 and full sunshine during the days South Dakota, Minnesota and places east were getting hammered by the storm. However, I saw no divers north of the 49th parallel during my recent travels in southwestern Manitoba or eastern Saskatchewan, although the smaller wetlands were open and held plenty of dabblers.
A majority of females made migration jumps this week, which is normal for this time of year. However, most of these movements were much shorter than the initial flight that started the trips north. We now have 48 females (40 that wintered in the Red Hills of Georgia/ Florida) migrating to the breeding grounds. Two "missing" birds from the Red Hills and two more that wintered in South Carolina have at long last made contact, dumping location data from as far back as early March. That means we only have four hens (two each from Red Hills and South Carolina) with transmitters that have not reported in. We do not suspect they are dead.
Perhaps the most interesting move during this period is the bird named PTJ. Yes, that is the Paul Jones namesake. Unlike the real PTJ, this duck does not seem terribly efficient — that great arc in its migration spans 1,400 miles and makes you wonder why the bird traveled an extra 400 miles rather than taking a direct route of 1,000 miles. PTJ is near Ottawa.
The duck farthest northwest appears to be using sheet water (very temporary wetlands) in agricultural land in North Dakota, a commonly used habitat by both divers and dabblers in spring. As of this week, migrant hens are spread across 12 states and provinces: Michigan holds 11, Minnesota 9, Wisconsin 6, Ontario 5, Ohio 4, Indiana 3, Iowa 3, Illinois 2, New York 2, Vermont 1, Quebec 1, North Dakota 1. Six birds are using Great Lakes or adjacent marshes.
Tracking maps and information are provided by Dr. Mark McConnell and graduate assistant Tori Mezebish of the University of Georgia.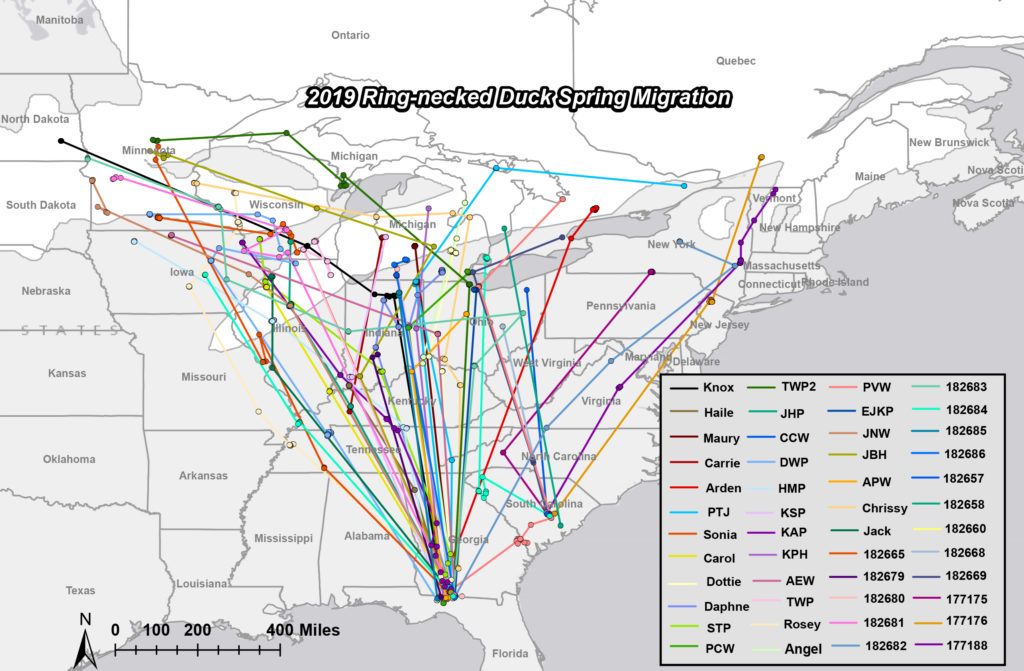 Why is Delta Waterfowl studying ringnecks?
We simply don't know much about them.
Delta's ring-necked duck project is groundbreaking for several reasons. First, ringnecks have been studied far less than any other duck in the top 10 most-harvested species. Second, ringnecks are doing well — both expanding in numbers and in their geographic range. This may be one of the first times that waterfowl researchers are studying a duck on the upswing. We usually focus our research on species in decline, which means we are constantly in crisis management. Third, this is the first time any research team has implanted transmitters in ringnecks to track their movements. The lack of extensive banding data for ringnecks means we know little about migration routes or breeding destinations for this species, although they are an important duck for hunters. Ringnecks are the only diving duck species in the Top 10 of U.S. hunter harvest, and they rank third in the Atlantic Flyway.