Ring-necked Duck
Tracking Research
Late May Report
Our transmittered ring-necked ducks are moving into northern areas with poor to nonexistent cell phone coverage, which means we might not hear from some of them until fall. Recall that our transmitters get exceptionally accurate satellite locations, but transmit the location data via cell towers. Fortunately, the units can store huge amounts of data and then send it all at once during fall migration, assuming the hen and her transmitter survive the summer. We have likely already lost contact with several of our boreal-nesting birds.
A large portion of our radioed sample this year came from the Florida/Georgia state line. Ten of the 14 ringers appear to have settled on small, isolated, forested wetlands where they will nest. Two of the non-settled birds last transmitted really closely to the border of areas with poor cell phone coverage.
Half of the South Carolina ringers appear to have settled into small wetlands in Quebec and Ontario. The other half are still moving through areas such as Michigan and Wisconsin.
Ringers marked in Virginia have mostly stopped moving, with nine of 15 appearing to be sitting on small, forested wetlands that are likely nesting sites. However, nearly half are still moving, with one bird leaving central Michigan and moving to Ontario, only to return to the same spot in Michigan. Then the same bird again went to Ontario, only to return a third time to the same wetland complex in Michigan. Arguably the most interesting bird moved quickly, and directly, to far eastern Canada — she has settled on a small forested wetland in Newfoundland.
Movements of Florida/Georgia Marked Ring-necked Ducks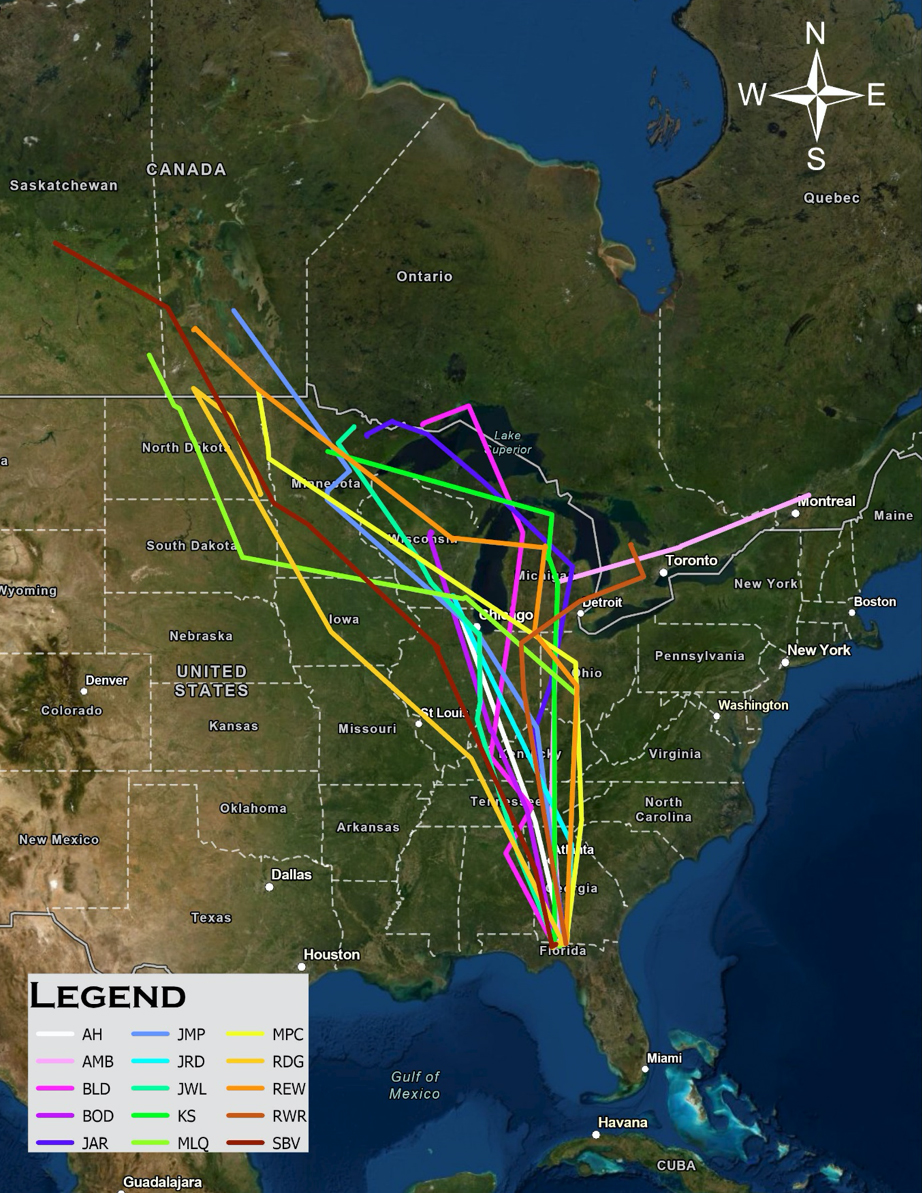 Movements of South Carolina Marked Ring-necked Ducks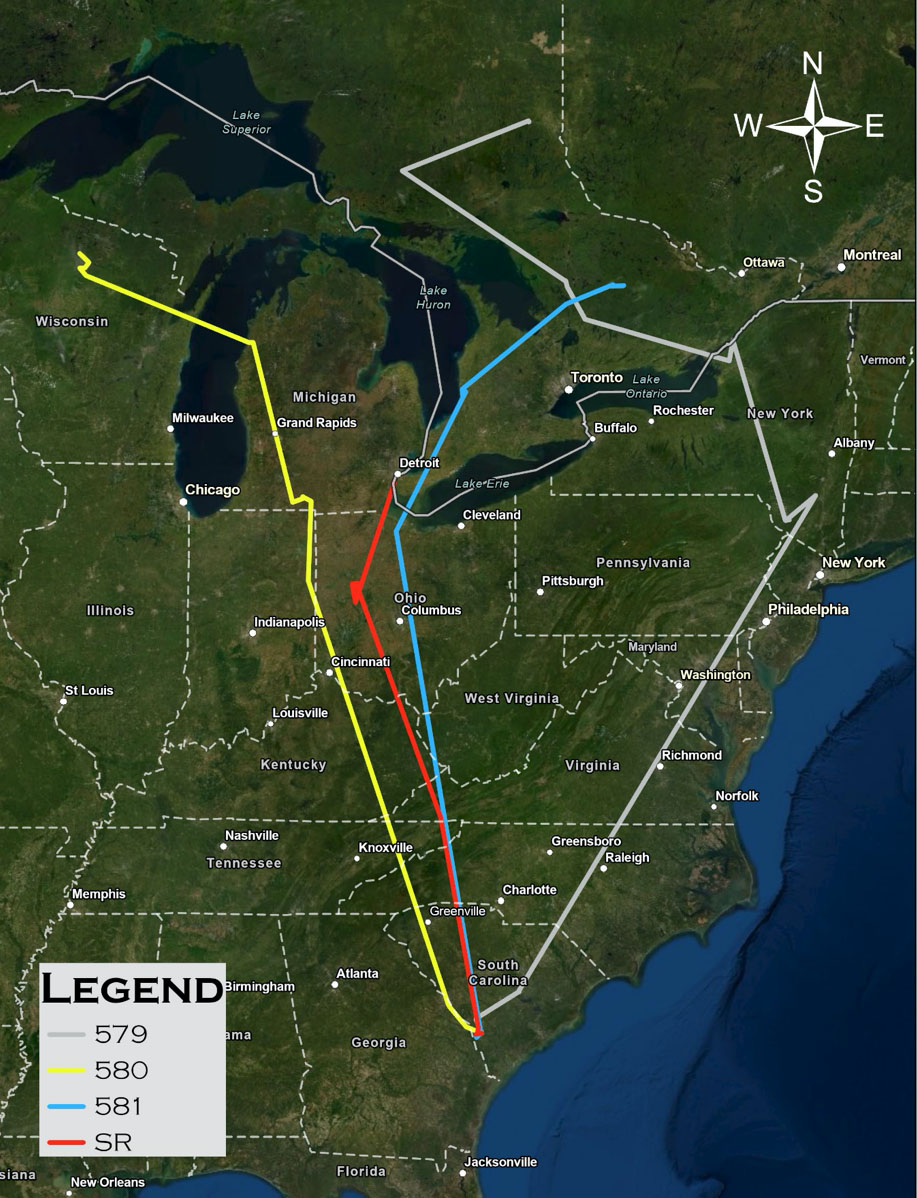 Movements of Virginia Marked Ring-necked Ducks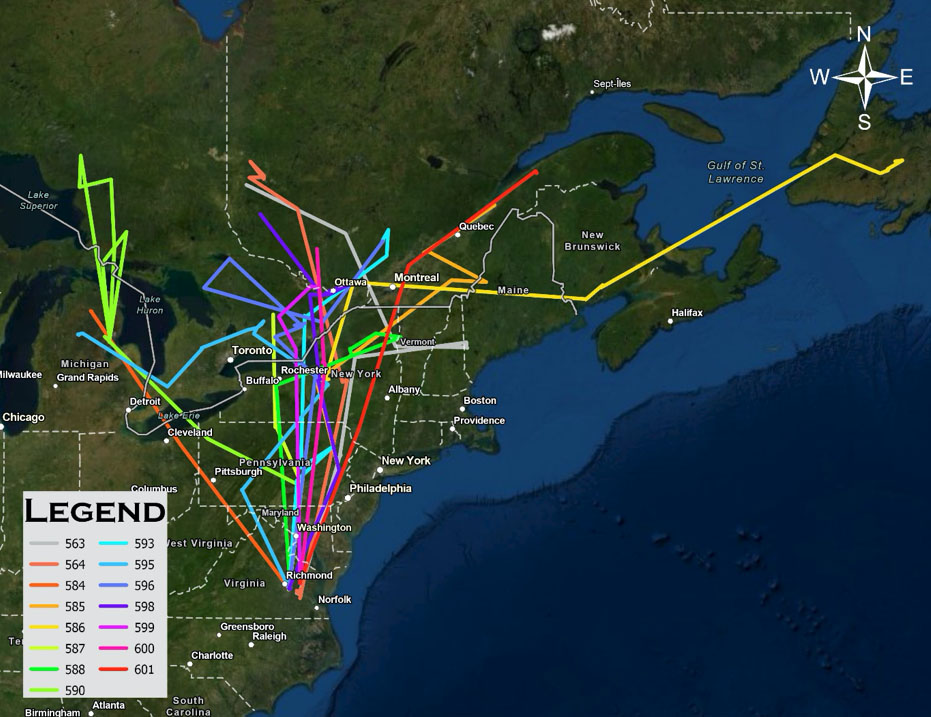 Why is Delta Waterfowl studying ringnecks? We simply don't know much about them.
Delta's ring-necked duck project is groundbreaking for several reasons. First, ringnecks have been studied far less than any other duck in the top 10 most-harvested species. Second, ringnecks are doing well — both expanding in numbers and in their geographic range. This may be one of the first times that waterfowl researchers are studying a duck on the upswing. We usually focus our research on species in decline, which means we are constantly in crisis management. Third, this is the first time any research team has implanted transmitters in ringnecks to track their movements. The lack of extensive banding data for ringnecks means we know little about migration routes or breeding destinations for this species, although they are an important duck for hunters. Ringnecks are the only diving duck species in the Top 10 of U.S. hunter harvest, and they rank third in the Atlantic Flyway.