Career and Student Opportunities
Delta Waterfowl offers our employees an excellent compensation and benefit package that includes: employee provided health, dental and vision insurance, life insurance, paid holidays, vacation and sick time, and a 401K plan. Delta Waterfowl is an Equal Opportunity Employer.
Below are current Delta Waterfowl career opportunities.
Digital Content Coordinator
Are you ready to join a fun and adventurous team? Delta Waterfowl is hiring a Digital Content Coordinator in Bismarck, ND. This full-time position will serve as part of a creative two-person team to ensure the functionality and effectiveness of our website, social media content across all social platforms, and email platform on an ongoing basis. Essential functions include:
GRAPHIC DESIGN
► Create visually appealing marketing pieces that align with Delta's brand
► Collaborate with digital content manager and art director to come up with new ideas for creating print/digital media for Delta
WEBSITE MANAGEMENT
► Plan, implement, monitor and upgrade Delta's website
► Be able to troubleshoot all website issues and continually strive to improve user experience
► Work with digital content manager to draft strategies to grow subscriber base and web traffic
► Collaborate with all staff and management to ensure that the website aligns with brand strategy and meets Delta's goals and objectives
SOCIAL MEDIA MANAGEMENT
► Help create visually appealing graphics for Delta's social media channels
► Work with marketing team to develop a plan, strategy and goal setting objectives that align with Delta's strategic plan
► Ensure brand awareness and online reputation
► Research, evaluate and recommend new platforms
EMAIL MANAGEMENT
► Create and deliver engaging, memorable emails for all departments
► Collaborate with creative team to develop content and design
► Work with digital content manager to monitor and report on analytics of email campaigns
REQUIRED QUALIFICATIONS:
To perform this job successfully, an individual must be able to perform each essential function satisfactorily. The requirements listed below are representative of the knowledge, skill, and/or ability required. Reasonable accommodations may be made to enable individuals with disabilities to perform the essential functions.
Associate's degree in graphic design, marketing, or other closely related field
Working knowledge of Adobe Creative Cloud software (InDesign, Photoshop, Illustrator)
PREFERRED QUALIFICATIONS:

Prior experience working in WordPress and basic understanding of Google Analytics/SEO
Experience with Facebook, Instagram, Twitter and YouTube
PHYSICAL DEMANDS:
While performing the duties of this job, the employee is regularly required to sit, talk and listen.  The employee requires dexterity in using telephone, computer keyboard, mouse, calculator and other office equipment. The employee is regularly required to stand, walk, and navigate stairs.  The employee must be able to lift and move up to 40 pounds unassisted.  Vision abilities required by this job include close vision, depth perception and ability to adjust focus.
APPLICATION PROCEDURES:
Please send a cover letter, resume, and three professional references to bsicble@deltawaterfowl.org
Delta Waterfowl Foundation is proud to be an equal opportunity employer.
The Dave Ankney & Sandi Johnson Waterfowl and Wetlands Graduate Research Scholarship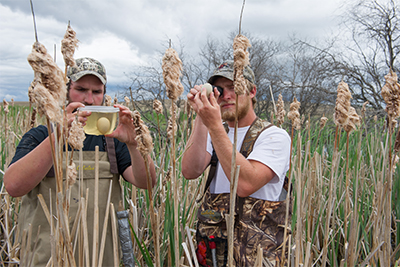 The Dave Ankney & Sandi Johnson Graduate Research Scholarship was established in 2013. Two scholarships are awarded annually to graduate students working on waterfowl/wetland issues in North America, one to a MSc candidate and one to a PhD candidate.
Click Here to learn more about this scholarship.
Award Recipients:
2019 – Casey Setash, PhD Student
2019 – Catrina Terry, MSc Student
2018 – Samantha Fino, PhD Student
2018 – Kyla Bas, MSc Student
2017 – Matt Dyson, PhD Student
2017 – Kelsey Navarre, MSc Student
2016 – Ben Sedinger, PhD Student
2016 – Cassandra Skaggs, MSc Student
2015 – Adam Janke, PhD Student
2015 – Megan Ross, MSc Student
2014 – Dave Messmer, PhD Student
2014 – Clark Nissley, MSc Student