Career and Student Opportunities
Delta Waterfowl offers our employees an excellent compensation and benefit package that includes: employee provided health, dental and vision insurance, life insurance, paid holidays, vacation and sick time, and a 401K plan. Delta Waterfowl is an Equal Opportunity Employer.
There are currently no open positions at Delta Waterfowl.
The Dave Ankney & Sandi Johnson Waterfowl and Wetlands Graduate Research Scholarship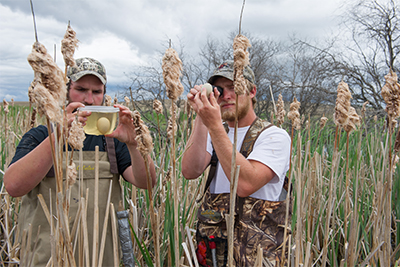 The Dave Ankney & Sandi Johnson Graduate Research Scholarship was established in 2013. Two scholarships are awarded annually to graduate students working on waterfowl/wetland issues in North America, one to a MSc candidate and one to a PhD candidate.
Click Here to learn more about this scholarship.
Award Recipients:
2019 – Casey Setash, PhD Student
2019 – Catrina Terry, MSc Student
2018 – Samantha Fino, PhD Student
2018 – Kyla Bas, MSc Student
2017 – Matt Dyson, PhD Student
2017 – Kelsey Navarre, MSc Student
2016 – Ben Sedinger, PhD Student
2016 – Cassandra Skaggs, MSc Student
2015 – Adam Janke, PhD Student
2015 – Megan Ross, MSc Student
2014 – Dave Messmer, PhD Student
2014 – Clark Nissley, MSc Student