Delta Waterfowl Careers
Delta Waterfowl offers our employees an excellent compensation and benefit package that includes: employee provided health, dental and vision insurance, life insurance, paid holidays, vacation and sick time, and a 401K plan. Delta Waterfowl is an Equal Opportunity Employer.
Below are the current positions open at Delta Waterfowl.
Regional Director: Arkansas, Oklahoma
Delta Waterfowl is looking for an individual to join our event fundraising team. The successful candidate will have the opportunity to be surrounded by a dynamic relationship-based environment while interacting with passionate chapter volunteers. While culturing the positive relationships that are in place, our team members will search out other individuals who want to make a difference in waterfowl conservation by starting a Delta Waterfowl chapter in their area.
Our newest team member will be an energetic, self-starting, and self-motivated person who is not only personable but passionate about waterfowl and waterfowl conservation. Prior Sales and Customer Service experience is a must.
If you feel you are Delta Waterfowl's next event fundraising team member, please e-mail or send your resume to:
Delta Waterfowl
Attn: Lisa Lawrence
Sr. Director of Events Fundraising
PO Box 3128
Bismarck, ND 58502-3128
llawrence@deltawaterfowl.org
The closing date for resume's is November 20, 2019.
Ontario Hunting Heritage & Conservation Center Operations & Facilities Manager
The Delta Waterfowl foundation embarked on a Great Lakes Initiative (GLI) in 2016. This Initiative involves numer­ous Delta delivery programs, research, hunter education and hunting advocacy throughout the Great Lakes region. Administrative and program headquarters for Delta's GLI is the Hunting Heritage & Conservation Center (HHCC).
Located near Turkey Point southwest of Simcoe, the HHCC is a rural facility comprised of 7 buildings on 40 acres. The HHCC is also the location of Delta's Canadian fundraising events shipping and receiving warehouse. The role of the HHCC Operations & Facility Manager is to promote and oversee scheduled use of property and facilities, oversee facility staffing, administration and operations, and ensure compliance with applicable municipal and provincial regulations.
Interested applicants are asked to e-mail their application packages in the following format. We require a cover letter and CV and 3 letters of reference all be emailed to Joel Brice at jbrice@deltawaterfowl.org, as one PDF file. Contact Joel Brice at 1-888-987-3695, extension 5225 with questions.
APPLICATION DEADLINE:  15 NOVEMBER 2019
Click here to learn more about this position.
Student Opportunities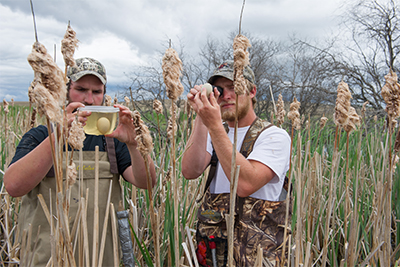 The Dave Ankney & Sandi Johnson Waterfowl and Wetlands Graduate Research Scholarship
The Dave Ankney & Sandi Johnson Graduate Research Scholarship was established in 2013. Two scholarships are awarded annually to graduate students working on waterfowl/wetland issues in North America, one to a MSc candidate and one to a PhD candidate.
Click Here to learn more about this scholarship.
Award Recipients:
2019 – Casey Setash, PhD Student
2019 – Catrina Terry, MSc Student
2018 – Samantha Fino, PhD Student
2018 – Kyla Bas, MSc Student
2017 – Matt Dyson, PhD Student
2017 – Kelsey Navarre, MSc Student
2016 – Ben Sedinger, PhD Student
2016 – Cassandra Skaggs, MSc Student
2015 – Adam Janke, PhD Student
2015 – Megan Ross, MSc Student
2014 – Dave Messmer, PhD Student
2014 – Clark Nissley, MSc Student